A History of The Mill
The main house is steeped in history and is Grade Two listed, serving the village in years gone by as a part of a working mill, before the mill was destroyed in a fire. The house dates back to around the 16th Century.
Hall Mill House still remains to this day and was once the home of Edmund Blunden (1896-1974) a famous World War poet and soldier who lived at Hall Mill until his passing in 1974. Edmund was the longest serving First World War poet seeing continous action between 1916 – 1918. Edmund used to read and study in what is now the Garden Room and a blue and white plaque commemorates Edmund and can be seen at the entrance to the property.
Edmund's life-long friend Siegfried Sassoon maintained that Edmund was the, "poet of the war most lastingly obsessed by it". His prose account of the war, 'Undertones of War' is still in print. It is accompanied by a supplement of poems some written while he was still serving on the front line. There is a very interesting website for Edmund Blunden which includes some paintings of Hall Mill House which can be viewed at http://www.edmundblunden.org
The American artist Mark Miller came to live in England in 1968. Mark was married to Edmund's daughter Margi Blunden and fell in love with the Suffolk countryside making his home here.
Mark also spent time at Hall Mill with Edmund and he adored the Suffolk landscape. Mark found the house and its setting very attractive, hence his many paintings of the house along the waterside with the house becoming a strong family connection.
Mark was a teacher at Ipswich Art School from 1974 into the 1980s where he worked with other local artists such as Colin Moss and Glynn Thomas. Miller has a Facebook site which is very interesting; further works can be found here https://www.facebook.com/suffolkartist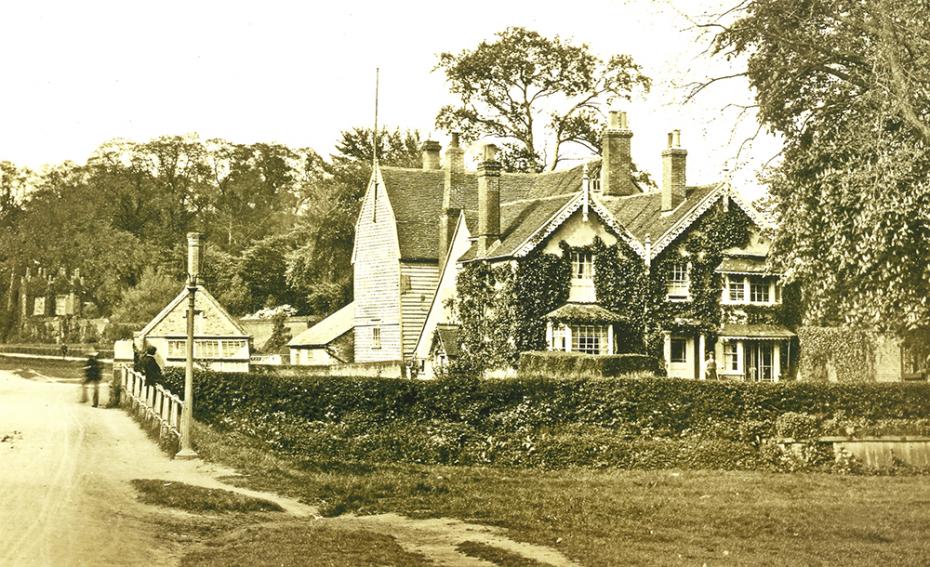 Old picture of the mill on the bridge circa early 1900's, before part of the mill was destroyed. The single storey cottage can be seen just to the left of the mill, complete with one octagonal chimney stack.
There is evidence of a conservatory on the South end of the cottage on the photograph where guests whom book the Garden Room now sit.
The mill is not so visible now looking North as it is obscured by trees which include a large willow.